Frequently Asked Questions
1. What is a Projector Lamp module / lamp assembly made of ?
A projector lamp module is made of a bulb, electrical wiring with a connector and plastic housing.
The plastic housing is the piece of molded plastic that holds the projector bulb in place when it is sitting inside the projector. Projector bulbs are usually locked into the plastic housing using a retaining clip. The attached wiring easily screws into a slot at the back of the plastic housing.
2. What is a Bare lamp / Bulb only / Original bulb?
We sell projector lamps in two formats. The standard format is with the projector lamp encased in a high-temperature resistant black plastic cage or housing. But, we also sell just the bare projector lamp / bulb alone.
Simple Installation
Purchasing the bare projector lamp will save you hundreds of dollars on your lamp purchase and installation is simple. In fact, a screwdriver is all you will need to install your bare projector lamp in your existing housing within minutes. Please take a moment to look at your existing housing and see how simple it is, seeing is truly believing and we encourage this as it will make you confident about your purchase.


Rock Bottoms Prices, Highest Quality
The bare projector lamps / bulbs only we supply are the exact same bulbs used in the original lamp modules / assemblies supplied by other AV companies and lamp suppliers. The only difference is that we possess a state-of-the-art database containing the technical specification of over six thousand projector and TV lamps/bulbs and also have access to bare projector lamps. We guarantee that the wattage, ignition voltage settings, ANSI lumens rate (brightness) and lamp life hours of our bare projector lamps are identical to the original lamps supplied by the original projector manufactures, you have a buying choice. We standby our products 100% with action in the form of our industry leading 90-Day "No Questions Asked" Guarantee.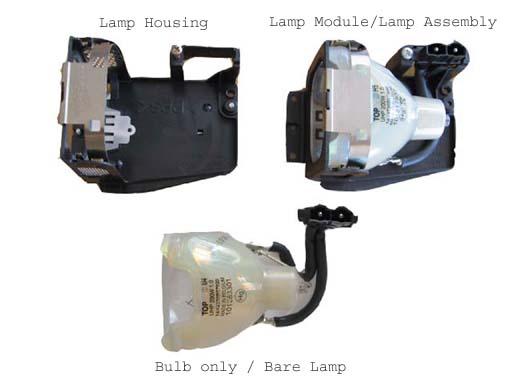 3. What Payment optiosn do you accept?
We accept credit cards and bank deposit . Since we service equipment for many companies, schools, universities, churches and government agencies we work with P.O.'s as well. You can fax or e-mail your Purchase Order
4. What is the Difference Between a Lamp and a Bulb?
A bulb is the core part of a lamp. A lamp consists of a bulb, an electrical wiring with connector and plastic housing. Plastic housings and electric wirings cant go wrong, just bulbs.
5. Who Makes Projector Lamps?
There are only a handful projector lamp manufacturers in the world that make high-quality projector lamps considered worthy enough to be requisitioned for projectors. Manufacturing a projector lamp takes an incredible amount of engineering know how and capital.
The following are the major movers and shakers in the projector lamp industry -
Philips - The global consumer electronics company engineered the 100% mercury vapor metal halide lamp in 1995. Using 100% mercury vapor allowed traditional metal halide lamps to emit a brightness never achieved previously and for all practical purposes made digital projectors possible. Philips was the trailblazer in the projector lamp world and remains as a dominant force in the projector lamp industry. Some estimates have Philips controlling over 50% of the projector lamp manufacturing and sales market worldwide.

Ushio, Iwasaki, Matushita, Phoenix They are Japanese companies. They manufacturer projector lamps for Sony, Sanyo, Epson, and BenQ, Panasonic, Toshiba among others and is estimated to have a 30-35% share of the projector lamp market.

Osram/ Sylvania - Osram is a German company that claims to be the second largest lighting manufacturer in the world. The company specializes in producing the ARC tube found in metal halide lamps, but they also manufacturer complete OEM projector lamps for several projectors. Osram controls a 7-11% share of the projector lamp manufacturing market.
Original projector lamps/bulbs are manufactured by the above 6 major manufacturers.
The Rest - A handful of compatible projector lamp manufacturers are located in Taiwan and China.
6. What Lamp Options do you have?
Original Lamp module:
As supplied by the original projector manufacturer, this lamp typically uses a bulb supplied to them by one of the major bulb manufacturers, Philips, Osram, Ushio, Phoenix, Iwasaki or Matsushita.

Original bulb only:
The same bulb as supplied to the original manufacturer above by one of the major bulb manufacturers, Philips, Osram, Ushio, Phoenix, Iwasaki or Matsushita. Lamp housings don't go bad, just bulbs. Fitting new bulbs to existing housings allows you to save hundreds of dollars and still get the top rated high performance as the original lamp module.

7. Do you sell compatible / generic / copy lamps?
We do not supply any kind of imitation lamp that uses a different bulb. Independent tests have shown that these lamps under perform versus the original lamps/bulbs and often prove to be of poor quality, short lifetime and lower brightness.
8. Where is My Projector Lamp Located?
A projector lamp is the essential part of any projector, it is the light source of images. The projector lamp is found by locating a square or rectangle plastic plate somewhere on the outer shell of the projector, the plate is usually on the bottom of the projector but can sometimes be found on the top or sides.
The covering is often secured in place by one or two screws. Undoing the two screws and lifting the plate off will reveal the bottom of the plastic housing that holds the projector lamp in place in your projector.
The plastic housing usually has a handle attached to it. Pulling the handle gently will remove the projector lamp and housing from the projector.
9. How do I replace a projector lamp?
Installing Pre-Assembled Projector Lamps
Installing a projector lamp pre-assembled in the housing is so easy that we will not go into great detail about it here. Click here for a useful "How to" video. If you are having difficulty with this process please do not hesitate to call or email us.


Installing Bare Projector Lamps / bulbs only
Installing a bare projector lamp is also very simple and we include a detailed instruction sheet with every bare projector lamp we sell. The instruction sheet visually represents and outlines in detail all the steps you will need to install your new lamp within minutes of receiving it. A screwdriver is all you will need to install your brand new projector lamp.
Generally, there is a simple three step process to replacing your bare projector lamp after you have removed the lamp housing from the projector.

Unscrew the wires that are connected to your bare projector lamp.

Remove the retaining clip that is holding your old bare projector lamp in place.

Replace the old lamp with the new lamp and fasten the clip and two screws back into place.

That's All!

If you are having difficulty with this process please do not hesitate to call or email us, we provide full technical support.
10. How do I Extend Projector Lamp Life?
Projector lamps usually expire early because they are burning at too hot a temperature over the course of their lives. Below are some simple tips for extending your projector lamp life.
Ventilation -
The single most important thing you can do to make sure your projector lamp lasts a long time is to mount your projector in a space with ample ventilation. Projectors that are mounted in corners, extremely close to the ceiling or in rooms with little to no air flow often cause the projector lamps inside them to expire early.

Vacuum and Blow Compressed Air -
Dust that gathers inside your projector can cause the projector lamp to burn at too hot a temperature over time which will cut its life short. The easiest solution to this problem is to vacuum your projector and blow it out with compressed air every now and then. Use your judgment, if you are using the projector often, complete this process more frequently.

Change or Clean Your Filter Regularly -
Almost every projector these days has a filter that prevents dust from getting inside the sensitive circuitry. The drawback to this is that if the filter gets clogged with dust it can cause the projector lamp to burn at a hotter temperature and diminish its lamp life. The filter on your projector is usually found behind a small rectangular panel that measures 0.5" by 6" long.

Do Not Turn Your Projector On and Off Quickly -
Turning your projector on and off quickly can have devastating effects for your projector lamp. Projector lamps typically take about a minute before they are running in a stable current. Projectors have special ballasts inside them that ignite projector lamps at a high voltage and then run them at a low voltage. If you turn your projector on and off quickly it can cause the ultra-high pressurized mercury vapor to become destabilized, which will in turn cause your projector lamp to fail permanently.

Run Your Projector in Economy Mode -
Most projectors these days have normal mode and economy mode. Economy mode usually makes the projector lamp emit a slightly lower brightness level and therefore can extend your projector lamp's life. If you are unsure if your projector has economy mode, please reference your projector's manual or contact the manufacturer

11. Why Are Projector Lamps So Expensive?
Projector lamps function by igniting ultra-high pressurized mercury vapor that is compressed inside a quartz ARC tube. Electricity jumps or arcs across the gap filled with mercury vapor, ignites it and produces an extremely bright light.
As you can imagine, this technology is not inexpensive to produce. The machines required to produce a single projector lamp can oftentimes cost manufacturers tens of millions of dollars.
Projector lamp manufacturers also have to hire expert scientists and engineers to ensure that the projector lamps are constructed to the standard required. The mercury vapor has to be pressurized at an exact pressure and the ARC tube and quartz reflector also have to be structurally sound. If these components are not calibrated with exact precision then the projector lamp quality will suffer severely or the projector lamp will fail to work at all.
Further, most projector lamps have different ignition and running voltages and wattages. These different settings produce different brightness levels or ANSI lumens rates. The machines that construct projector lamps therefore have to be recalibrated for each specific lamp setting.
As you can tell, projector lamps are not easy to manufacture and that leads to another factor that makes them so expensive. There are only a few major high-quality projector lamp manufacturers in the world. The limited amount of manufacturers means that they have more control over market prices than say banana farmers or flat screen TV manufacturers.
Projector Lamp Prices are Falling Over Time
The good news is that as the years go by, projector lamp prices have fallen slightly and they are becoming more and more affordable for the average buyer. Every year there are more companies attempting to manufacture projector lamps and the competition drives prices down. Also the return on investment for lamp manufacturers increases every year as they pay down the lofty start-up costs associated with manufacturing projector lamps.
12. Can I test my Projector Lamp?
Projector lamps are a complex and different technology than most household or traditional electronics and therefore it is important to know certain facts when attempting to test a projector lamp.
Projector lamps use customized ballasts that ignite the lamp by charging it with a higher voltage in the ignition phase and then dropping down to a lower running voltage once the circuit is created.

Projector lamps CANNOT be tested with a Multimeter. Projector lamps function by igniting ultra-high pressurized mercury vapor across an ARC tube. At the point where the mercury vapor resides there is no conductive electrical material and therefore testing a projector lamp with an AMP or OHM will not work.
Testing a projector lamp is impossible to do with your typical household electrical equipment. You must have specific testing machines or a related working projector when testing projector lamps
We sell the projector lamps in two formats - projector lamps pre-assembled in the black plastic housing and bare projector lamps without the housing.